The Purple Wave Group Approach
At Purple Wave Group we apply our years of training and experience to bring our clients a truly exceptional experience that brings results. Our philosophical approach follows our mission:
1. STANDING OUT requires strategy and planning
We all live and work in a crowded market and want to make our brand and business stand out. Standing out, at least in a good way, doesn't just happen. It takes a plan and focused effort.
"Strategy is about making choices, trade-offs; it's about deliberately choosing to be different." Michael Porter
Our strategic planning stands out because we bring a diverse experience and perspective to all our clients. We work with you and your unique situation to develop a plan that works for you.
2. MAKING CHANGE through a focus on content and messaging
We help our clients MAKE CHANGE by focusing on optimizing the content and user experiences in their digital presence. We always think: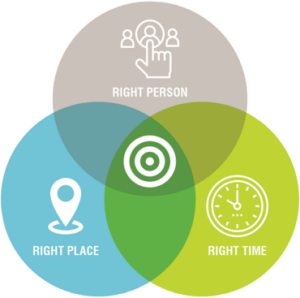 We've focused our services offerings to help audit and organize your current content, identify gaps, and optimize for user experience, including search engines and voice-activated interactions.
3. Achieving success is about BEING EXCELLENT
Executing a plan takes a commitment of the right resources and time. Sometimes you need a little help to have the right tools. Purple Wave Group can evaluate your resources and provide recommendations in areas that may need enhancing in order to meet your strategic goals. We have expertise in evaluating human resource and skills, technological platforms and vendors, getting that right balance with internal and external support.
We also know how to measure and evaluate how your digital marketing efforts are making a difference.
We develop strategic plans to help provide the foundation for your:
Brand
Audience
Business Digital Strategy
Digital Landscape
Technology
We excel with content:
Content Audits and Optimization
Taxonomy Planning and Development
Voice Search
Search Engine Optimization
User Experience Review
Our success services include:
ROI Reporting
Technology/Vendor Assessment & Audits
Resource Assessments